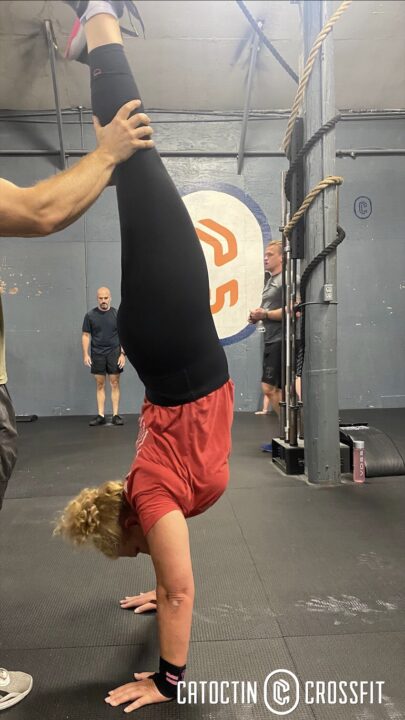 1.In general, what is your background? Age, Occupation?
I am originally from State College, PA and moved to the Northern Virginia area 22 years ago. I have been married to my husband Darrin for 22 years and we have 3 amazing daughters – Madison, Shannon, and Paige. I may be 49, but I still have the mind of a 21-year-old😊. I received both my Bachelor's and Master's degrees in Speech Language Pathology from Penn State. I have worked for Loudoun County Public Schools for 22 years as a Speech Language Pathologist. For the past 4 years, I have been a Special Education Supervisor for the school division.
2. How did you get to know about Catoctin CrossFit and why did you start?
About 3 years ago, I injured both of my knees, however, I ignored how they felt and continued to do things that made them progressively worse. In May of 2020, my dad went into hospice and I moved back to Pennsylvania to assist with his care. For 6 weeks, I lifted him in and out of his bed and wheelchair. My knee pain was unbearable, but I fought through the pain. One night, I could no longer walk and needed to use a cane just to get around the house. After my dad passed, I knew I had to do something. The doctor's told me I needed shots in each knee and possible surgery in a few years, however, I did not like either of those options. It was right around this time, that my good friend, Lori Padgett, kept telling me to come try CrossFit with her. One day, I finally agreed to go, and it was the best decision I have ever made! It has been just over a year and I no longer have knee pain.
3. What has Catoctin CrossFit changed about your life other than a new workout routine?
Confidence and self-esteem!!! Catoctin CrossFit has made be push myself out of my comfort level and realize I can do things I never thought possible. I am now stronger both mentally and physically which has resulted in a better quality of life. I have more energy and mobility so I can do things I could not have done a year ago, such as riding a bike, going on a hike, or dancing!
4. What motivates you and keep you coming back to Catoctin every day?
The workouts are amazing and challenge me in different ways depending on the movements. However, it is the people at Catoctin CrossFit that make me want to come back every day. It is such a welcoming encouraging, and inclusive community. I go to the early morning classes and there are some mornings I feel I might be too tired to do a workout, however, once I get there, the energy of the people and coaches takes me the rest of the way.
5. What advice would you give someone thinking about trying a class at Catoctin CrossFit?
Definitely do it! The hardest part is working up the nerve to go to your first class, but once you do, you will not regret it. When you do go, don't worry about what others are doing…just try to do your best every day. Just remember that everyone in the gym all had their "day one" at some point. Also, the coaches at Catoctin CrossFit are very friendly and knowledgeable. Ask them lots of questions!
6. What Goals have you set for yourself in 2022?
I have two goals for myself in 2022. One is that I want to make better choices with my meal planning. Since I am always on the go between work and my daughter's activities, I never take the time to meal plan and prep for the week. It truly does make a difference and I need to learn to dedicate time to do this. My second goal is to be able to run 1 mile in time for the Murph. Before my knee injuries, running a mile was easy for me and I miss it!
7. Favorite CrossFit moment so far? Anything unforgettable?
I would say my favorite CrossFit moment so far was the 12 Days of Christmas workout. Even though it was a challenging work out, I was so proud of myself for completing it. A close second would be that I was able to finally work up the strength and courage to do a box jump. One year ago, I could barely walk and now I can jump 20 inches!
8. Favorite and least favorite type or workout or movement?
My favorite movement is the bench press. My least favorite movement is the burpee (sorry Troy), however, they are starting to grow on me!
9. If you had to teach a class on one thing (not CrossFit related), what would it be and why?
The power of presumed competence. Presuming competence means you believe that you have the potential to developabilities and skills you never thought possible.Too often in our personal and professional lives, we come across a situation and think "I can't do this" and then list a million reasons why. Presuming competence helps us develop a mindset that we have the potential to do anything!
10. If you could be on a reality TV show, what would it be and why?
The Amazing Race. I would love to travel and see the world!