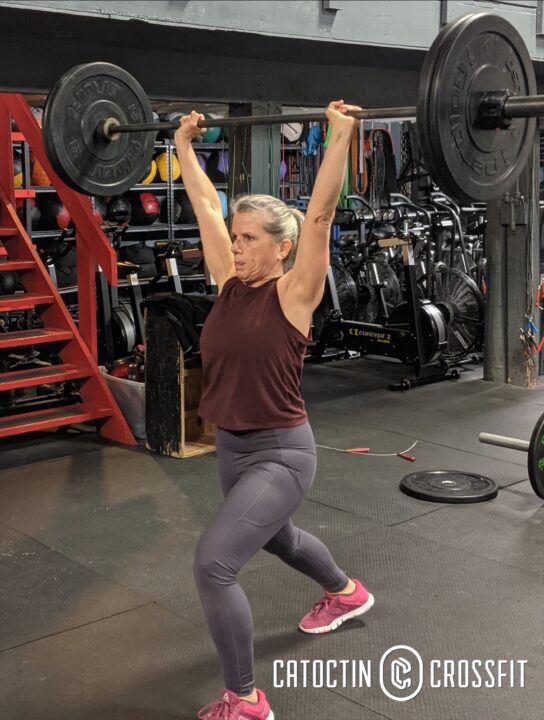 In general, what is your background? Age, Occupation?
I grew up in Fairfax City. I have a Bachelor's of Science in Computer Information Systems and I love anything to do with the outdoors. I'm 56 years old and a DBA with over 25 years' experience in database development, database administration and web page development.
How did you get to know about Catoctin CrossFit and why did you start?
I had done CrossFit years ago with a group of people and really wanted to join a local CrossFit gym as it was the most fulfilling workout, both physically and mentally that I had experienced. Catoctin CrossFit was the closest CrossFit gym near me and has a variety of early morning and late afternoon classes which fit into my schedule. The coaches at Catoctin are awesome at making sure your technique is correct and the atmosphere is very positive so, after a few sessions, I decided to join.
What has Catoctin CrossFit changed about your life other than a new workout routine?
I feel really good about myself, my health and my abilities. My overall strength and endurance has and continues to improve. I look forward to each day's program and keeping on track with the nutrition plan Catoctin has provided, which has made a big difference. The best part is, I don't feel near my age and it just keeps getting better.
What motivates you and keeps you coming back to Catoctin every day?
I feel great after each workout, even if I didn't make the goal I was expecting. If I miss a day, I feel like I missed out.
What advice would you give someone thinking about trying a class at Catoctin CrossFit?
Stop thinking about it and just do it! Come in and give it a try for a week, if you decide it's not for you, nothing lost. You don't need to prepare and don't think you are not fit enough; they scale all workouts to your ability, whatever it may be. You will have a coach by your side making sure your technique is good and they will start you with appropriate weights and movements. The sooner you start the sooner you will realize your potential, just be consistent. We are going to cheer you on!!
What Goals have you set for yourself in 2022?
Continue studying for and obtaining certifications in Azure and AWS to fortify my career. Plan my retirement strategy. Take my father to his hometown in Greece. Get stronger, healthier and more flexible.
Favorite CrossFit moment so far?
My favorite moment so far is when I completed the 22.1 open as prescribed.
Favorite and least favorite type of workout or movement?
My least favorite movement is the Thruster, my favorite movement is the Snatch.
If you had to teach a class on one thing, what would it be and why?
How to let go of negativity because life is too short to dwell on the negative.
If you could be on a reality TV show, what would it be and why?
If I could be on a reality TV show, it would be, 'The Amazing Race', because I love to learn about different cultures, adventure and to travel.