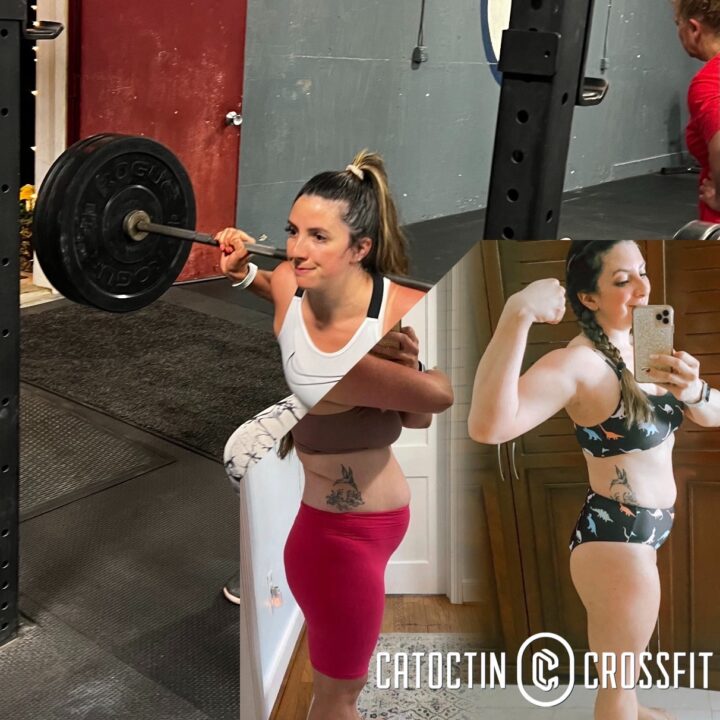 In general, what is your background? Age, Occupation?
I'm a mom of two, under 3, I'm 32 years old and a Loudoun local. I grew up in Lovettsville & graduated from Valley. My passion is the beauty industry, specifically hair. I've been working in salons since I was 16 & can't imagine doing anything else!
2. How did you get to know about Catoctin CrossFit and why did you start?
I found Catoctin CrossFit through one of my clients Allie Myers. I think I told her I was gym hunting and she suggested I check it out. I tried out my first class & was hooked.
3. What has Catoctin CrossFit changed about your life other than a new workout routine? My strength & stamina throughout the day. I get tired from lack of sleep (shout out to my kids) but I am rarely physically tired from playing with them. I love that I have the energy to handle a crying baby at 2, class at 5, work by 9:30 & play time at 5pm, I never had that before.
4. What motivates you and keep you coming back to Catoctin every day? The results I see physically & mentally. I'm a happier person when I get my morning class in.
5. What advice would you give someone thinking about trying a class at Catoctin CrossFit? Grab a friend & try it out. You've got everything to gain & the worst that happens is you don't like it.
6. What Goals have you set for yourself in 2022?
I'm going to do 5 unassisted pull ups by the end of the year, have a flourishing garden (last years garden was taken over by squash), & continue to make improvements on my overall health.
7. Favorite CrossFit moment so far?
When I was finally able to climb to the top of the rope! When I started I could barley pull myself up from the floor.
8. Favorite and least favorite type or workout or movement?
Love squats dislike burpees
9. If you had to teach a class on one thing, what would it be and why?
A driving class on how it's rude to drive slow in the left lane & the proper way to use a round about. Because these are 2 driving practices I often see and they drive me nuts!
10. If you could be on a reality TV show, what would it be and why?
I don't watch a ton of reality TV, but I'd go with any show that gives me a chance to win some money.