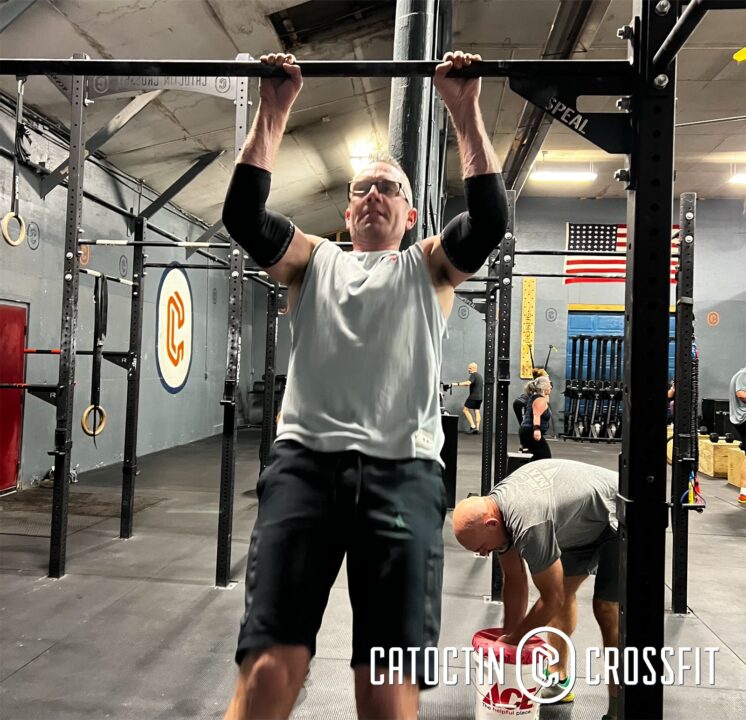 1. In general, what is your background? Age, Occupation?
I am 50 years old and have always enjoyed fitness, pushing myself and strive to prove that age is just a number. I am a father to four beautiful kids (1 daughter and 3 boys) and live in Leesburg, VA. As for work I describe myself as a professional geek. My experience over the last 27 years includes technical development, product management, strategic sales experience, and executive technical leadership. I hold a B.S. in Computer Information Systems from Concord University and am currently the Vice President, Content Services Engineering at Hyland, a company based in Westlake, OH. I work from home, but travel a lot pre-COVID to our development centers in India, Poland, Switzerland, France, Germany, UK and in the US.
2. How did you get to know about Catoctin CrossFit and why did you start?
I did research online, looked at reviews of different CrossFit gyms in my area and beyond. After speaking with Zach, I knew Catoctin CrossFit was the place for me. Zach and his staff are passionate about what they do and are great instructors who not only teach us but will push and challenge each of us.
3. What has Catoctin CrossFit changed about your life other than a new workout routine?
I was doing at home workouts for years but over the last 4-5 years, I started doing these workouts by myself vs with my ex-wife. I enjoy working out with others, pushing each other, the comradery, and friendships I have made at the gym. It's been great for me to workout with others rather than working out in isolation.
4. What motivates you and keep you coming back to Catoctin every day?
The instructors, other gym members and wanting to improve upon movements I'm still trying to master, and more PRs keep me coming back.
5. What advice would you give someone thinking about trying a class at Catoctin CrossFit?
No, matter what workout routines you have done before, be prepared to know you aren't in as good of shape/conditioning as you think. CrossFit is humbling but challenging and very rewarding. CrossFit is also for everyone, there is no judgment, as we are all striving to improve.
6. What Goals have you set for yourself in 2021?
Gain muscle mass, especially in my chicken legs.
7. Favorite CrossFit moment so far?
Finally getting toes to bar movement down. I felt so uncoordinated until I finally learned the movement. If I'm still doing it wrong, don't tell me.
8. Favorite and least favorite type or workout or movement?
I love all the barbell work, even squats, as a lot of the moves I hadn't done before. My least favorite is a toss up between assault bike and running. I often joke if I came across a bear, I would briskly walk away instead of running.
9. If you had to teach a class on one thing, what would it be and why?
No kip pull-ups as it's one of my strengths.
10. If you could be on a reality TV show, what would it be and why?
Ultimate Fighter, it's a bucket list item of mine.