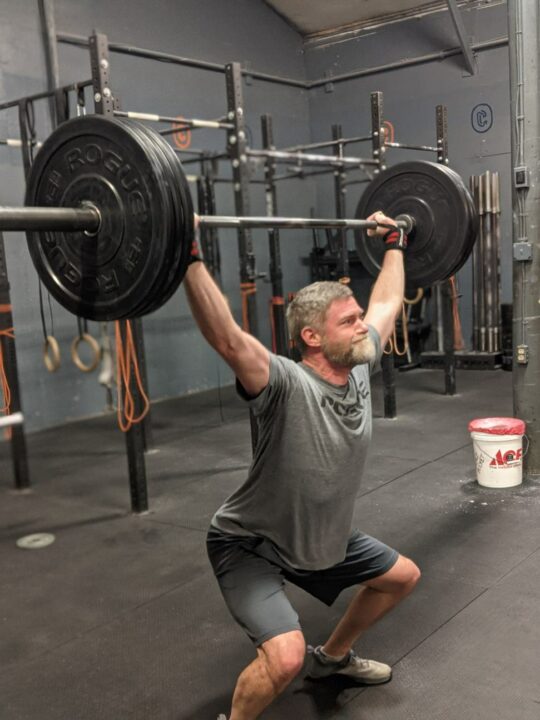 1. In general, what is your background? Age, Occupation?
I'm 45 years old, born and raised in Northeast Ohio. We settled in Northern Virginia in 2007 when I got out of the military. I'm currently a Program Manager for a National Defense Contracting Company.
2. How did you get to know about Catoctin CrossFit and why did you start?
My friends had been trying to get me to come try it out for a long time and I finally decided to give it a shot about 2 years ago. Fitness has always been an important part of my life but I was getting bored with traditional gyms and working out in my basement, I guess I was looking for something challenging and new.
3. What has Catoctin CrossFit changed about your life other than a new workout routine?
I learned the hard way that nutrition and sleep have a huge impact on how well I perform in the gym, CrossFit has really opened my eyes to how important it is the not only get into the gym on a regular basis but also maintain a healthy lifestyle.
4. What motivates you and keep you coming back to Catoctin every day?
There are a number of things that keep me coming back; our community at Catoctin CrossFit is filled with fantastic people who keep me motivated to push harder, that includes the coaches of course who have helped me tremendously and continue to each day. I can't thank them enough. I'm also motivated by how good I feel after our workouts, it's a great stress reliever.
5. What advice would you give someone thinking about trying a class at Catoctin CrossFit?
I would say just have the courage to try it for yourself and ignore anything negative may have heard about CrossFit prior to stepping into the gym. Before I started I had heard about all the injuries and how it's not good for you in the long term….all that is just noise, try it with an open mind and see for yourself if it's right for you.
6. What Goals have you set for yourself in 2021?
I have a number of goals for next year; obviously I have a few PR weights in mind for the Power Clean and Snatch. I'm going to focus on injury prevention as well because I did have a couple of set-backs last year that kept me out of the gym for prolonged periods of time. And I want to work on my cardio and stamina because I still get really gassed on the Assault Bike.
7. Favorite CrossFit moment so far?
I did the Murph for the first time this year and it was incredible. I loved how packed the gym was that day, the National Anthem, how challenging the workout was, and the victory beer after. I can't think of a better way to remember our heroes.
8. Favorite and least favorite type or workout or movement?
I love the heavy Olympic lifts we do, so the power cleans and snatches are probably my favorites, back squats too. My least favorite are wall walks, I rather do handstand pushups or anything else really.
9. If you had to teach a class on one thing, what would it be and why?
Probably how to make the perfect Bloody Mary. Tom Scott makes a good one, but I think mine are better….sorry Tom.
10. If you could be on a reality TV show, what would it be and why?
I think it would be fun to be on one of those home renovation shows that are on HGTV, either that or a show where they rebuild classic cars. I've always wanted a restored late 1960s Chevelle SS.