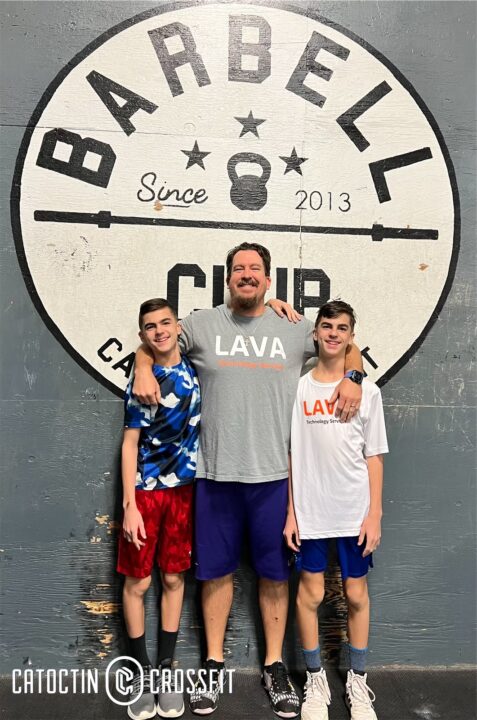 In general, what is your background? Age, Occupation?
I'm 42 from New Orleans, LA. Moved to Virginia by way of Chicago in 2009 with my wife Holly. We have 3 sons (13, 11 and 11), all who now work out at Catoctin Crossfit. I'm the Co-Founder and Chief Revenue Officer at LAVA Technology Services. I went to LSU and probably the biggest Tiger fan in all the land!
2. How did you get to know about Catoctin CrossFit and why did you start?
I was looking for a gym near me and my buddy Jake Jansen (and Business Partner) kept mentioning how great of a workout he always got from Crossfit, and Dani Jansen asked me to come as her refer a friend on a Tuesday in January.
3. What has Catoctin CrossFit changed about your life other than a new workout routine?
Coming to the gym 5 or 6 days a week has me feeling more confident about myself and has made me accountable for getting me to the fitness level I need to be at.
4. What motivates you and keep you coming back to Catoctin every day?
Now I get to come with my 3 sons for 3 of the days, I also have 2 of my really great friends in Jake Jansen and Sean Carley who make sure we all get to the gym for 6a at least 5 days per week.
My biggest motivation is getting very healthy and strong as I have 3 sons who don't want to see their dad as some old fat guy anymore.
5. What advice would you give someone thinking about trying a class at Catoctin CrossFit?
 If you love working out, want to have passionate coaches who 100% care about every one of their students work with you, and also feel the comradery of a group of people with a common goal of getting healthy and seeing you get healthy, then you need to sign up today! Best Gym in Purcellville!
6. What Goals have you set for yourself in 2023?
I would love to get my BMI down to at least middle to low teens, get down to about 235 pounds and bench press 350 and deadlift 400.
7. Favorite CrossFit moment so far?
Just getting to know a lot of new people who all have the same common goal of getting fit but having fun while doing it!
8. Favorite type or workout or movement?
I absolutely love doing sled pushes. It reminds me of high school football.
9. If you had to teach a class on one thing, what would it be and why?
I'd love to each high school kids all things about running a business, how to invest, managing a checkbook and budget so they are more prepared before entering college or the real world.
10. If you could be on a reality TV show, what would it be and why?
Most reality TV shows are not "real" but I would love to be on a show with Gordon Ramsey just so he can yell at me and tell me my cooking sucks.