In general, what is your background? Where are you from, education, sports etc.
I grew up in Southern California. I spend most of my childhood in a pool…I started swimming competitively when I was 5 and continued until I was 14. Got pretty burnt out and ended up running cross-country and track in high school. My best event was the mile, won league and went to the California state meet my junior year. Had a couple D2 offers to run in college but passed on those to go to Stanford. Failed to make the cross-country or track team as a walk-on and ended up on the crew (aka rowing) team for 3 years. For those that know crew, I was a port. After college and into my late 30's, I spent a bunch of years doing marathons, triathlons and various other endurance events including a couple Ironmans. A bike accident and a couple of knee surgeries put an end to my long-distance running career, however.
48, VP of Sales for a software company.
How did you get to know about CrossFit and why did you start?
Saw some stuff online about back in 2013-2014 and was intrigued by the concept. Was trying to mess around with P90X (muscle confusion!) and some kettlebell stuff on my own since I was bored of biking, swimming and couldn't really run anymore. But that wasn't really sticking, and I wasn't seeing the results I wanted. The accountability and community are what eventually drew me in.
How has CrossFit changed your life, lifestyle, level of fitness?
I'm much stronger and more athletic than I've ever been…as my wife (Kelly) once joked, before CrossFit I was really good at propelling myself in a straight line for a long time, but not much else.
Name one goal and/or personal record you would like to accomplish through CrossFit.
200# snatch and a sub 40 min Murph (with a vest). The first one is a long way off, but it's fun to keep working on it.
Favorite CrossFit moment so far?
Too many good ones to remember but getting a 200# clean for the first time felt really good. And the vibe during the Open is always amazing.
What do you like most about Catoctin CrossFit?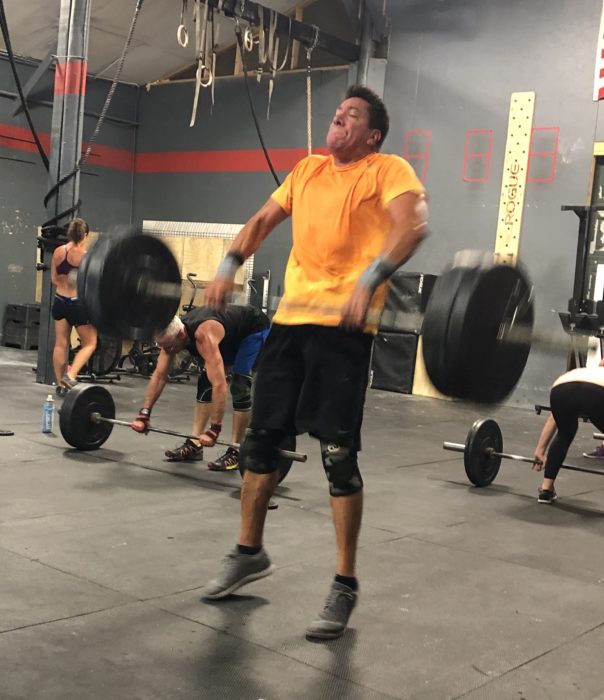 The community and the coaching are both fantastic.  I've learned so much from Zach and the team.  And the quality of people in our gym truly is outstanding. Everyone supports each other and has such a good time pushing themselves….it is so inspiring.
Roy. Pull-ups, deadlifts and box jumps.
Fran. And the Open WOD with DB snatches with burpee box overs…18.1, I think. That crushed me.
Squat snatches
Heavy back squats.
Favorite place or food to eat locally?
Uncle Julio's at One Loudoun…but in town we really like Magnolias and Monks BBQ. Tipped Cow for ice cream of course.